Working at PSW
As a pioneer of trade technology in Pakistan, PSW has revolutionized Pakistan's trade industry by integrating human expertise and technology to enhance cross-border trade processes. We highly appreciate individuals with innovative and imaginative minds who are dedicated to making a significant difference.
Explore where you fit
PSW company has multiple departments where the potential candidates can evaluate opportunities that may be a good fit based on their background and interests.
Domain Management
Information Technology
Human Resources & Administration
Marketing & Communications
Audit
Corporate Affairs
Finance & Procurement
Operations & Strategy
What Happens After You Apply?
Submit your application through our website. Your application is being read by a real human.
Let us get familiar with your competencies and experience in the field.
Lets us add more filters to assess culture fit, and managerial skills and validate technical skills.
Let us get familiar with your competencies and experience in the field.
Let us make the final decision and put an offer to the selected candidate.
We deliver unique digital solutions which transform people, businesses, and communities.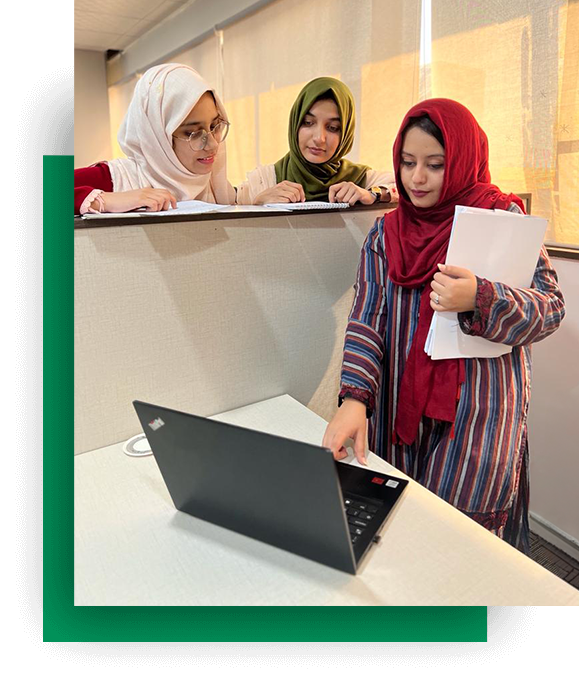 Employee Engagement and Social Responsibility
Pakistan Single Window encourages employees to celebrate national & international days & activities with enthusiasm, supports them to get involved in community service, & helps them to make contributions to the betterment of society as responsible citizens.
International Women Day 2023
PSW commemorated International Women's Day, honouring women's social, economic, cultural, and political accomplishments worldwide. We believe that together we can forge women's equality.
Gender Action Plan Workshop
Pakistan Single Window-PSW believes in creating a well-balanced and gender-inclusive workplace. A Gender Action Plan Workshop was conducted at PSW-HQ with the objective to discuss the research findings that were collected and analyzed during the company policies and processes review.
World Blood Donor Day
Pakistan single window has organized a blood donation camp in pursuance of the world blood donor day 2022. PSW staff participated in the blood donation activity with enthusiasm to support this noble cause.
Questions about joining PSW?
For any questions regarding the interview process, please feel free to contact us
[email protected]